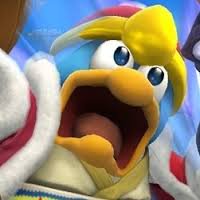 Joined:
Mon Oct 23, 2017 7:42 pm
Posts:
247
Location:
r/me_irl
Country:

Gender:
Male
MGN Username:
30XX
Currently Playing:
SSF2, SSB4, Pokemon USUM, and way too many others.
Waifu:
No.


A New(?) Yoshi Tech (Nothing too drastic)
So Yoshi is bottom tier yadda, yadda, yadda, but, there's a somewhat difficult thing you can do with Double Jump and Up-B.

Fall down from ledge for a bit, double jump, and when you almost reach the ledge, Up-B. If done and timed perfectly, Yoshi will slide a very short distance quickly, allowing for sliding attacks. This is faster than his normal run. Why is this not drastic? Because: 1. It's difficult to time perfectly, and if you miss and use an attack or airdodge, since you don't have your jump, hope you like losing a stock. Second: The predictable distance. This goes 1/4 of FD, and if your opponent knows that, it can be punished.

To Yoshi mains who want to use this: main a better character Don't be predictable. I would recommend using this once or twice per match while your opponent is at kill percent so you can hit them with a surprise smash attack. Use it more and your opponent will know how to punish it. Once in a while, Up-B but instead of landing on stage, land on ledge so the egg can hit the opponent instead of their punish hitting you. But eh, I'm not a Yoshi main, you guys try this out, see how helpful or terrible it is for you. I'm open to feedback, correct me if you wish. I lock these types of posts after a week of them being up, so act quick. Or don't, I don't care.

Also, I would say sorry for not posting in a while, but 1. No one cares about me, and 2, Mario Oddysey is a good enough excuse.

Edit: Yeah, it's not new. Starkiller posted a video on it and it existed since 0.9b. Well, I guess take this as a note that it still exists.
_________________
Main:

Secondaries


Last edited by 30XX on Sat Nov 04, 2017 10:08 am, edited 1 time in total.
BR Member
Joined:
Tue Jul 29, 2014 2:58 pm
Posts:
1838
Location:
Everywhere and Nowhere
Country:
Gender:
Male
MGN Username:
CSWooly
Skype:
CSWooly
Currently Playing:
Fire Emblem Fates: Birthright, SSF2, SSB4, League of Legends.

I'm sorry to tell you but this is wrong on both counts.
Yoshi isn't bottom tier anymore, and that tech has been around since 9b. Starkiller made a video on it.
_________________
Follow me on Twitter here.
Youtube channel.
Click to expand thumbnail
SSF2 Backroom Character Analyst and Labber
Mains: :lucario:

SSF2 Developer
Joined:
Tue Dec 11, 2012 6:47 pm
Posts:
2316
Location:
BC
Country:

Gender:
Male
Currently Playing:
Complacency breeds weakness. My opponents won't stop getting stronger, neither will I.

I love that you referenced my 9b video about it so that ppl know what's up

OP included a question mark in the title as a way of mentioning it might not be new

, but MRW new ppl find old tech and create a fuss ->



_________________
Men that are trapped by the chains of "maybe" can never reach their dreams!
The weak are washed away by the tides of fate. The strong drink it up.
No matter the man, we all wear masks. Whether it be over our faces or over our hearts.
Youtube: NinjaLobsterStudios
Stream:
twitch.tv/ninjalobster
Click to expand thumbnail