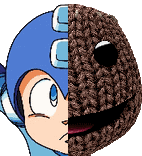 Joined:
Wed May 23, 2012 3:38 pm
Posts:
152
Location:
Hockeytown
Country:

Gender:
Male
MGN Username:
MegaSackboy
Skype:
MegaSackboy
Currently Playing:
Lots of old games


Bucky
Name:Bucky
Real Name:BB-32
Age:16
Species:Reploid
Gender:Male
Height:5'9
Weight:130 lbs
Appearance:Reddish Brown spiky Hair,Brown eyes,purple stripes down his face,Reploid ears like MMZ Zero,red,gray and black armor,white gloves
Weapons:B-Buster(with whip,sword,saw,hammer and scythe modes),element chips
Voice:Ryotaro Okiayu(clips recycled from Zero and Alucard)
Bio:
Built on November 8,1998,Bucky was made to purge the world of unruly humans. He later fought an epic duel with Spectrum which resulted in a loss. Bucky was now repurposed for protecting his sister,Jasmine. Bucky failed because he was knocked unconscious when he was 9,then he awakened at age 15,where he fought many duels with a human named Ethan. At age 16,Ethan snuck him into his lab unconscious and gave him nerves so he could feel. To this day he can feel anything humans can feel(with a hug from Jasmine,his hostile personality disappeared.)
Armed with his versatile B-Buster which can work in a similar fashion to the buster in Mega Man Battle Network, Bucky is one who is not to be messed with. He can dash,wall jump,hover,and scan.
_________________
I really
really
need to change my username.
Microsoft can't count to nine, let alone ten or 720.