This time, in our eleventh Blog entry, we will take a look at Sora.
- - - - - - - - - - - - - -
- - - - - - - - - - - - - -
Character Description by 135
The KeyBlade-wielding protagonist of Kingdom hearts once again comes to SSF2! While currently he's a decent character, we've decided that there was room for improvement and we utilized that room.
The new Sora is for the most part based off of what we already had. The first thing you may notice when playing as him is the new sprites. There are similar to the original ones, but generally are smoother and has blurs and glows. He has a rather unique golden sword-trail, to match the animation of his official series. Some of his attacks have the near exact motion as the old ones. Some are a bit different. Some other ones seem like a completely new move altogether. We hope that this new moveset will give Sora a bit more zest, and a bit more reference to the Kingdom Hearts series. No longer is he going to just bash other characters around with his sword. This time, he's got after-images. Energy spheres. Whirling vortexes of air. Brilliantly exploding rings of energy. You can still bash people around with the KeyBlade, which is his main tool for combat, and even his sword attacks feel more similar to those from Kingdom Hearts.
Looks pretty, but try not to get too near.
A major change to Sora's move-set is the removal of the current Down-Special, which switches his Neutral Special. We decided that this set-up was crammed and uninspired, so what we did was spread out what used to be the three Neutral Specials into separate moves, and getting rid of the switching altogether. Thunder is Down-Special, Fire still remains as Neutral-Special, and Blizzard is now Back-Throw.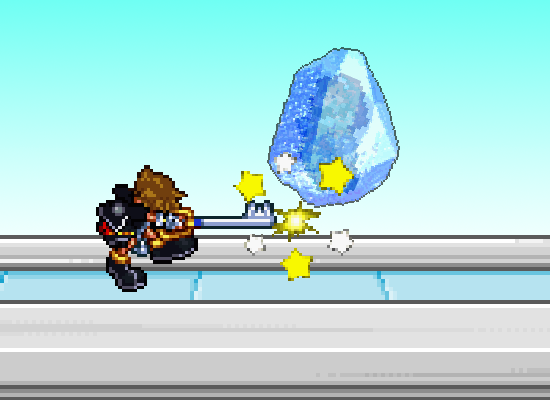 Yup, a throw that freezes.
Now that we have discussed about Sora's major lay-out changes, it's time to move on to the more detailed and technical elements in Sora's update. Sora has lost one of his glide (Did he really need both of them?). While he can still glide after a jump, his Up-Special no longer goes into one. It acts more like a third jump now and does not induce free-fall.
As for Sora's attacks, they've just about all been spiffed up quite a bit in terms of function (and as previously explored, in terms of design as well). Both his ledge attack and forward-Throw now hits three times. His Tilts retained their flavor for the most part, as did his F-Smash. His Down-Smash, on the other hand, had been updated to a cool multi-hit array of energy spheres, and can be used to combo to some extent while having great range and damage. His Up-Smash has been changed to Wind. This is one of the most unique Up-Smashes – while it can be charged and hits opponents upwards like other Up-Smashes, it also has creates a powerful gust that blows opponents away, with the strength of the wind increasing as charge and the opponent's damage increase.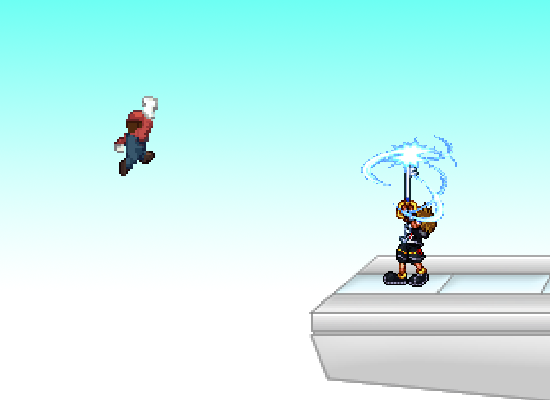 The blast of air could be used on enemies attempting to recover.
Sora's aerials have been drastically changed in terms of functionality, and now reflect his overall playstyle: Combo-oriented. Sora's aerials are about combos. If you have seen a Kingdom Hearts game in action, you'd probably notice that Sora's close-range moveset often consists of long strings of graceful hits hacking away at the enemy's HP meter in flashes of glowing trails. We pretty much went for that here in SSF2, and I'd say we did quite a great job. All of Sora's aerials can be used to combo. N-Air, F-Air, B-Air, U-Air, and D-Air. Try to understand the properties and nuances of each, and which ones to use in what situations.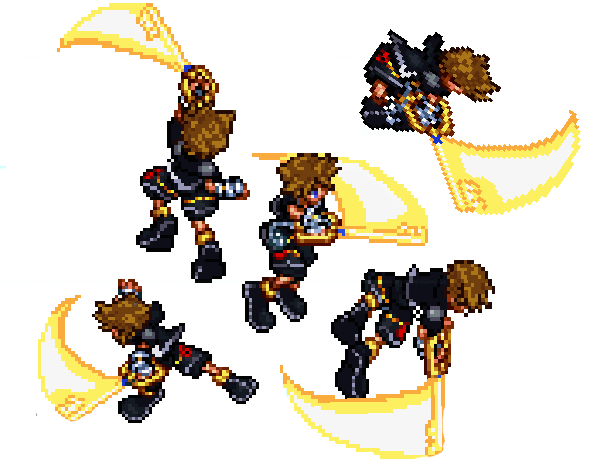 There are five choices. Gotta make my mind up…
Sora is also a lightweight, floaty character specializing in aerial combat, where his rapid hits and great range allow him to pummel opponents over and over again. His fall speed is slow, and can be reduced even more by using attacks such as the aerial Fire. This means he can spend a long period of time performing aerials without landing, which greatly improves the flow of his combos. It also makes recovery easy, although vertically-knocking attacks may KO Sora a bit earlier than they used to.
However, if you've played Kingdom Hearts before, you might also notice how one-on-one battles can take a while. Sora keeps on hitting that one boss…but they just won't go down, at least not after several dozen slashes, if not more. The same roughly applies to Sora in SSF2. To balance his strengths of range and speed, Sora has rather low KO potential. He might not be getting KOs without scoring a gimp or racking up a bunch of damage, but hey, that part isn't really that hard with all the combos he's got.
Ah. Maybe I should try again after landing a few more hits.
Overall, I wouldn't call Sora a straightforward character. He wasn't very easy to get used to in this version, and chances are he wouldn't be either in v.0.8. Yet, this uniqueness in terms of controls is, in a way, what makes him so fun and special. Perhaps he's a bit hard to get used to, being rather unprecedented in terms of play-style. Perhaps he feels a bit different from what a player might expect in a Smash game (even though he fits in quite well once people get the hang of him). But, a generic Smash character wasn't really want we were aiming for; we instead wanted something fresh, a character who plays in a similar fashion to how he played in his originating series, a character who brings the flavor of his own game like a contrasting piece of a puzzle and fixes it snugly into the whole picture that is SSF2.
Mission accomplished.
_________________
TAC3 shows his moves.
[Thanks to DJ Wizard Cop for the profile animation!]