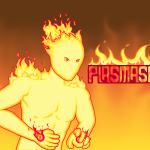 Joined:
Tue Aug 21, 2018 11:45 pm
Posts:
3
Country:



Judgement Pillar (A Smash-Inspired Platform Fighter)
Hello, my name is Plasmaster. I am the director and developer of a Smash-inspired platform fighter titled 'Judgement Pillar'.

Judgement Pillar takes the basic gameplay of the Smash Bros. series and introduces some elements of its own to bring a unique gameplay experience. Smash attacks, which are referred to as heavy attacks in Judgement Pillar, will change forms upon reaching full charge; you may be familiar with this idea if you have played Black Mage in Super Smash Flash 2. Judgement Pillar also has a different defensive system in place from your typical Smash game. Instead of shields, characters in JP have blocks, and blocking an attack at the right time will push the attacker away a short distance to give the blocker an opening to turn the tides of battle. Additionally, each fighter has certain special attributes to some of their normal attacks that make them feel unique from the rest of the cast.

Judgement Pillar has been in development for a year now, and currently my team and I are putting our efforts towards making a first demo that will include four original playable characters and three stages.

The four characters planned for the demo are a spear fighter, a paladin that wields a sword and magic, a fire elemental, and an apprentice mage that commands water. As I said before, each fighter has some special abilities that make them feel unique. The spear fighter's forward tilt can cancel into any other grounded attack upon hitting an opponent, and the fire elemental's down smash allows them to take off high into the air to chase down airborne opponents, just to name a few examples.

The Judgement Pillar development team is in need of talented pixel artists to help bring the project to life through making animations and sprites for each of the characters. If anyone would be interested in joining the team, please feel free to contact me on Discord at Plasmaster#9036 or on Twitter @PlasmasterPyro.

Thank you all for reading, and please, if you have any questions, feel free to ask!