In today's character update, we'll be taking a look at the new Goku!
- - - - - - - - - - - - - -
- - - - - - - - - - - - - -
Character Description by Void
Before now, Goku has been, in a word, boring. In 0.7, he was one of the best characters largely due to his ability to Ki-blast repeatedly and in doing so completely shut down a large number of characters, along with his down smash, which was fast, had huge range, and was able to score KOs at absurdly low percents. The majority of Goku's moveset was often left unused and unloved.
We decided that a character whose entire gameplan centered around a tiny number of his moves wasn't good design, so Goku returns in demo 0.8 with a completely new feel. While his blasts and down smash have been toned down, you will find yourself using every move at your disposal. In contrast to his 0.7 tendencies, Goku is now a very aggressive character who is able to keep pressure on the opponent and punish heavily when he gets a hit in. Let's look at some specifics.
With several new moves at his disposal along with improvements on others, Goku can do some pretty spectacular things. His aerials play a vital role in his combo game. Combine with his ability to float, Goku's up and back aerials become very threatening juggling and combo tools. His forward air now has a noticeable sourspot, during which it will not meteor smash but will instead hit upward a short distance, which provides another combo option. Perhaps most importantly, Goku has an improved neutral aerial. Replacing the multi-hit spinning kick he had before is a single quick kick forward, which fits perfectly into his combo game. It looks like his down aerial has been improved a bit as well!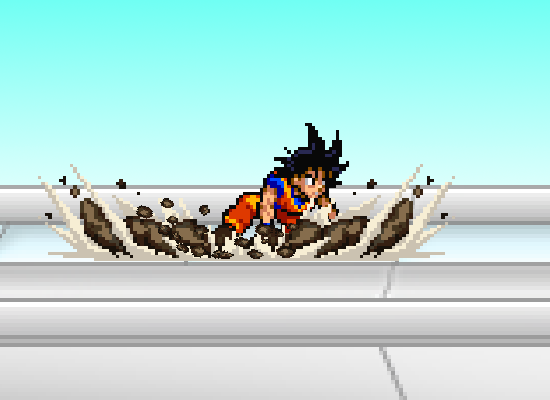 His ground moves tend to focus less on sustaining combos by themselves than KOing and setting up aerials. His throws, tilts, and dash attack are especially good at leading into his other options. Down smash remains a solid KO move, and is now accompanied by a buffed up smash and a brand new forward smash.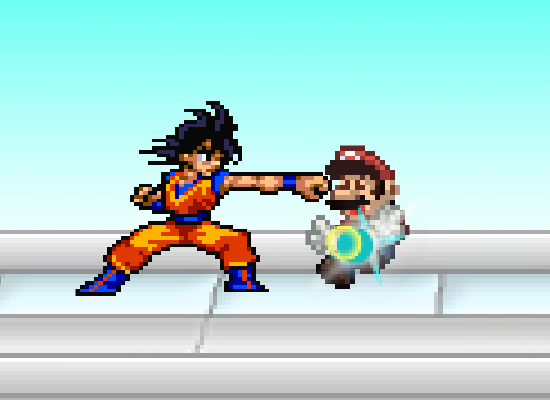 If delivering punches to the face is wrong, I don't wanna be right.
Goku's most important new feature, however, is the reworking of Kaio-ken. Its design in 0.7 had several issues that prevented it from being as interesting as it should have been. The first was the difficulty of changing into the form in the first place. Before, you were forced to hold his down special for a very long period of time. I'm excited to announce that in 0.8, Goku will transform into Kaio-ken
instantly
after connecting with his down special.
It sets up a combo perfectly!
Another problem with Kaio-ken was how lackluster it was. Pretty much all you got for the trouble of switching into it was ticking damage and the loss of your best move (Ki-blasts). As you saw in the video, Kaio-ken is what it should be: an incredibly powerful version of Goku, complete with screen shakes, heavy hits, and devastating combos and punishment, at the cost of taking ticking damage.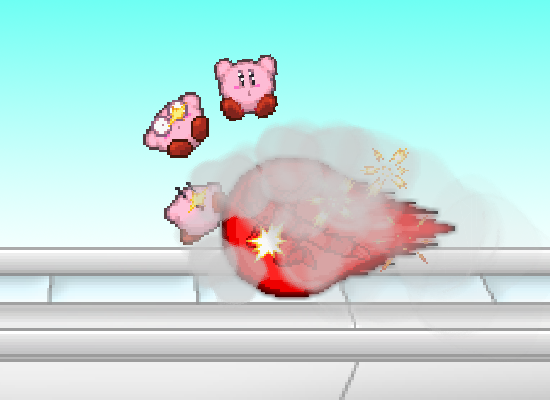 Oh, the humanity.
Kaio-ken is now integrated into Goku's playstyle as a very strong option, but one that you can't overuse, due to the fact that it drives your percentage up even more quickly than before. Overall, 0.8 Goku feels like a much more complete character, with fully fleshed out options and a unique playstyle befitting his character and personality. Look forward to playing him in 0.8!