This time, we're going to take a look at the mysterious and powerful Black Mage!
- - - - - - - - - - - - - -
- - - - - - - - - - - - - -
Character Description by Void
Black Mage is back, and in 0.8 he brings a variety of new tools to the table along with some improvements to his old ones. While before he was a very limited character crippled by a largely unviable moveset and an easily punishable recovery, he is now a very versatile character with unique tools that allow him to deal with any situation. Before we look at his new features, let's check out how some of his old moves have improved.
The most noticeable step up as far as Black Mage's playstyle goes is his improved combo game. No longer will he be largely forced into hit-and-run tactics: all his aerials, along with his up tilt, down tilt, and Haste (side special) flow seamlessly into one another, allowing for some interesting tactics. You should notice more hitstun and more favorable knockback angles on all of these moves. Additionally, Haste will now always knock the opponent forward, making it a perfect move to finish off a combo or set up an edgeguard. Adding to its newfound usefulness is the fact that successfully landing the move will no longer send you into free fall, allowing you to use it offstage. Be warned, however: if you miss, you'll still go into free fall, so it's a good idea to combo into it to avoid falling to your death. The attack now comes out a bit faster, but cannot connect for as long and does less damage.
As you saw in the
Character Updates blog
, Black Mage now gets special, powerful effects when he fully charges his smashes. Though you won't be using these as often as some other moves due to the difficulty of finding the time to charge all the way, when you do find the place to use them you'll be able to reap large rewards. They're especially great if you can find a few seconds away from the action in three or four player free for all battles.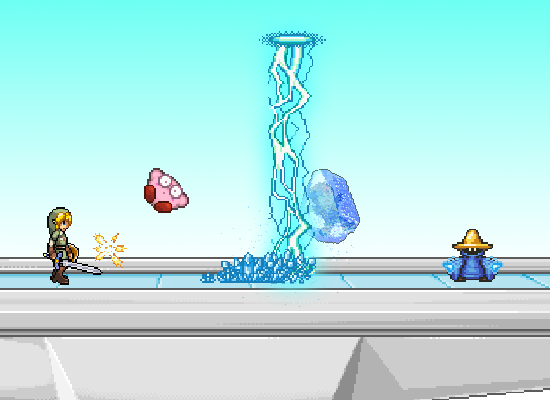 Don't take this guy lightly.
You'll also notice some key additional to other moves. Meteor (down special) is now usable in the air, allowing you to approach your opponent while throwing it or connect with an offstage opponent for a quick kill. Stop (neutral special) has several new features. You can now save its charge levels, making it possible to land a highly charged stop without your opponent running into it. Also, stop will now freeze projectiles, allowing you to reflect them back at your opponents immediately with forward tilt. Finally, if you connect during certain frames of down aerial, Death will appear on your opponent, and they'll be spiked downward after a random period of time. Due to Death's randomness, you won't always be able to take advantage of it, but when it strikes it the right time it can be devastation. He's got himself a brand new dash attack as well!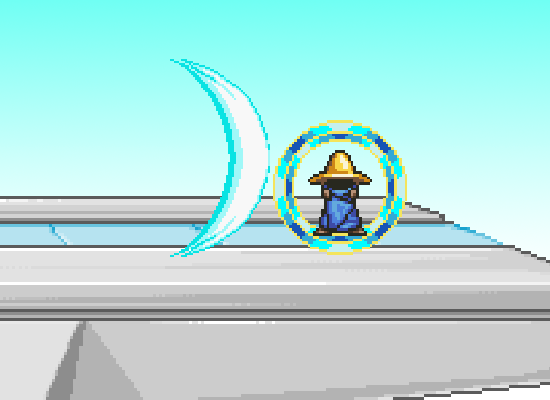 So many tricks. He really feels like Black Mage now.
Another area in which Black Mage's gameplay has become more cohesive and fitting of his character is his throw game. Several of his throws have new animations and improved aesthetics. You should find them a lot more useful and rewarding than their 0.7 iterations.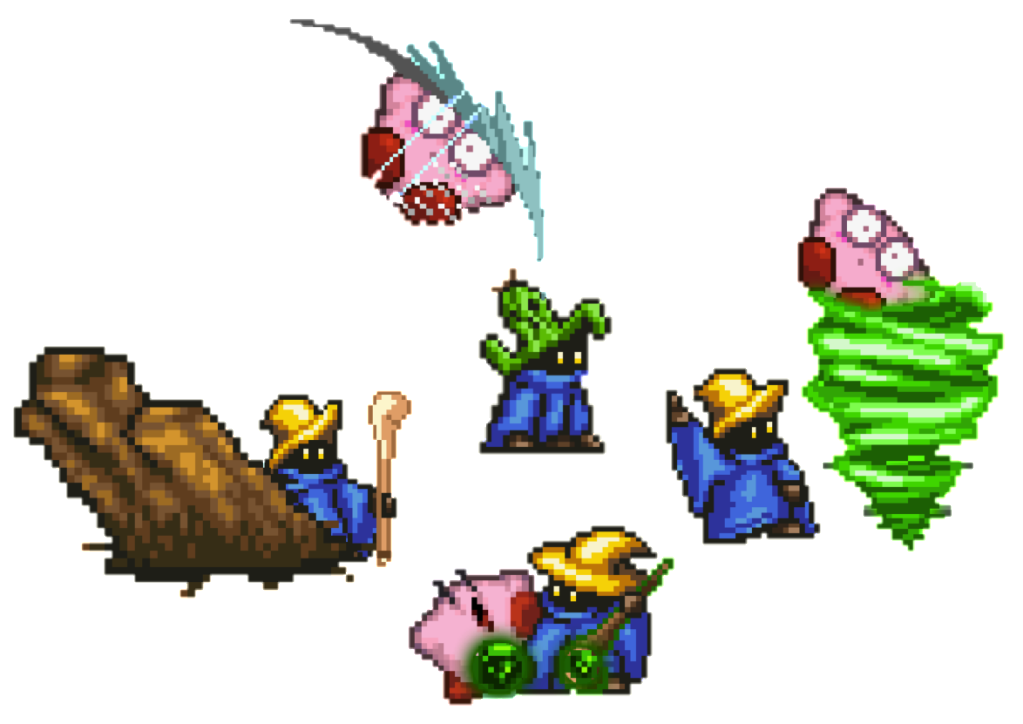 How can you pick just one?
In short Black Mage has transformed from a rather incomplete character to a fully imagined, well-thought out powerhouse who truly deserves the name Black Mage. I hope you're as excited as I am for one of the most unique characters in 0.8!