Hey everyone, Void here. Before I begin, I feel it's best to explain who I am, since about half of you are probably wondering why a guy who's not a dev is talking to you right now. I am a balancer, a group whose dark task is to make sure all characters in the game have an equal level of viability. Essentially, we're SSF2's character quality control team, and the 0.8 development period is the first time we've been able to really get the job done. For 0.7, we only had 5 days with the new characters due to a pressing deadline that no one wanted to break. Our tools were nearly as limited as our time: we could only edit the first hits of non-projectile attacks. Even then, we were not able to put our balancing changes directly into the game: we had to post them and hope a dev got around to implementation. We also failed to realize the game-breaking potential of some characters soon enough to fix them before demo release. The result of all this was a demo rather lacking in the balance department, with several characters who were almost completely useless against a competent opponent, and several more who were so undeniably overpowered that they pushed the less powerful characters even further toward complete worthlessness. In short, 0.7 was poorly balanced.
For 0.8, we aim to change that. This time around, we've been provided with much more extensive tools, allowing us full control to make changes to all aspects of attacks, from projectiles to multihits to unique attack properties, and can now apply them ourselves. The result should be a version where every character is not only viable, but also more fleshed out as a whole, with a greater number of moves usable and a playstyle all their own. To give you a taste of what 0.8 will look like, I'll be going through the balancing changes several characters have undergone. Please note that all characters will be balanced: a character's exclusion from this post shouldn't be taken to indicate anything about how balanced they will be.
The first character we'll look at is everyone's favorite huge-haired gentleman,
Goku
. In 0.7, he was simultaneously one of the best characters in the game and one of the most boring. His ki-blasts (side special) were able to shut down the large majority of characters in the game through mindless spamming and down smash was probably the best kill move in the game: very fast, huge range, huge power.In 0.8, down smash won't be killing at such ridiculously low percents, and ki-blasts were toned down both indirectly and directly. While 0.7 ki-blasts could lock you in and there wasn't much you could do about it, the advent of DI in 0.8 makes it possible to escape. We also toned down the firing speed of grounded ki-blasts, making approaching through them a much more manageable task for close-range characters.
Don't take this to mean that Goku will be a bad character, though. While the few moves he heavily relied upon in 0.7 are now a bit less powerful, his other moves have been buffed significantly. He now has a satisfying and effective combo game to back up his solid projectile and KO options, making him a well-rounded character. Take a look at an example Goku combo.
Another character that's been toned down for 0.8 is
Tails
. Many people didn't realize it, but Tails was a dreadfully overpowered in 0.7: he had such extreme movement capabilities and speed that few characters could touch him if he continuously ran away. Much of this effect stemmed from his his down special's ability to cancel into itself repeatedly while retaining it's momentum, causing him to zoom horizontally through the air without even using any jumps. In 0.8, Tails no longer retains his momentum after canceling spin dash, and there is a delay enforced between spin dashes.
Don't take this to mean that Tails isn't no longer fast, though. His primary advantage is still his speed, and spin dash is still an amazing move, just one that is used more offensively and requires more finesse to utilize.
A few rungs down the ladder in 0.7, we find
Sora
. Sora has always had a lot of potential to be an interesting character, but up until now that potential has never been realized. For 0.8, Sora has been completely rethought. He is now focused on long combos of quick attacks. His floatyness and incredibly fast aerials make him an offensive monster who is able to wrack up damage with ease.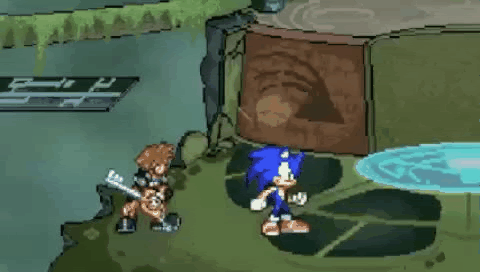 In order to balance his combo game and his excellent recovery, Sora has one major shortcoming. While he always has a chance of getting a long enough combo to KO at lower percents, if he fails to do so he will not be able to kill until he's built up a lot of damage on his opponent. Notice how difficult it is for him to KO even a light character like Kirby.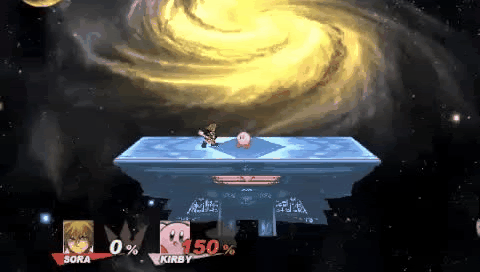 Considering Sora's ability to dish out a bunch of damage quickly this isn't a crippling disadvantage, but it's something you have to keep in mind. Make sure to capitalize on your opportunities to get a kill!
Naruto
was always a character that was a bit middle of the road. He was a deviant character, but his playstyle and moveset were rather uninspired. As you saw in
Tid's dev blog
, Naruto's moveset now incorporates Shadow Clones in several ways. Lets take a look at some applications of his new techniques after the application of a little bit of balancer magic.
Next, let's move on to a character that was a bit below average in 0.7.
Lloyd
, with great range and combo game, has always been a fun character to play, but in 0.7 he was significantly outshined by better characters. In 0.8, however, he has became quite the threat: through use of his new Linked Artes mechanic combined with much greater combo potential on many of his moves, Lloyd has the potential to capitalize to a large degree on every hit he lands.
However, this comes at a cost. In order to keep Lloyd balanced, we had to tone his recovery down a bit.
Lloyd is now a glass canon: he is able to dish out a lot of punishment when he gets a hit in, but can be punished himself if he gets hit.
Next, I'd like to talk about
Black Mage
. This guy has always been fun to play, but in 0.7 he had several glaring problems. Perhaps most significant of these issues was his recovery: while long in distance, Black Mage's up special was incredibly easy to punish. We fixed this up for 0.8, and you'll notice that the teleportation has been sped up significantly. This means that your opponents will have to predict where you're going if they want to hit you back off the stage.

Black Mage also had a lot of trouble landing any of his laggy KO moves, and often was forced to hope the opponent would mess up and get hit by one. This was because he was largely forced into a hit and run playstyle: few of his moves had any potential to combo into any other. For 0.8, we beefed up the combo potential of many of his moves, and he now has a unique and satisfying combo game. You'll find yourself using moves you never really considered using before to make that combo as effective as possible.
Finally, I'd like to discuss a character who has been at the bottom or near the bottom of the game for longer than I can remember, a character that has become a perennial fixture of the bottom tier, a character that no one wants to see forgotten yet again. For this guy, I felt something a bit special was in order.
Thanks for reading; I hope you enjoyed it. I suppose this is as good a time as any to give a huge thank you to all the balancers who have been working hard this version. No matter how much I get mad, I still love you guys. Next week you'll get to hear from the man himself, Cleod9, who's sure to finish the dev blogs off with a bang. I hope you're looking forward to it as much as I am!
>These images are of a demo in development, and that anything you see here is subject to change<